Camp Weeks 2015

Week 1: June 1-5
Week 2: June 8-12
Week 3: June 15-19
Week 4: June 22-26
Week 5: July 6-10
Week 6: July 13-17
Week 7: July 20-24
Week 8: July 27-31
Week 9: August 3-7

Registration

Art, Dance & Performing Arts Camps:
304-242-7700

Nature Camps: 304-242-6855

Nature Day Camps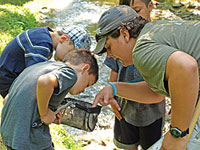 Nature Day Camps at the Schrader Center allow children to explore the wonders of nature through a multidisciplinary curriculum. Camps focus on field experience, enrich National Science Education Standards, integrate many other disciplines and promote a healthy lifestyle through hands-on activities.
Nature Investigators
,
Nature Explorers
and
Nature Scholars
swim Monday, Wednesday and Friday afternoons at Oglebay's outdoor pool. Pre and post care is available for
Nature Investigators
,
Nature Explorers
and
Nature Scholars.
Please inquire upon registering.
June 15-19 and/or June 22-26: The Long Ago Camps: Land Before Time and Ice Age
Land Before Time Camp (June 15-19):
Find our more about dinosaurs like longnecks (Littlefoot), tri "Cera" tops and Spike the Stegosaurus as you become a paleontologist. Build a volcano and explode a meteor as you learn how the land before time came to an end.
Ice Age (June 22-26):
Woolly mammoths, sabretooth tigers, and cave bears ruled the land after the dinosaurs. Explore life as a caveman, find out about the animals they fought, caught and painted on the walls. Build weapons and a fire, and track the woolly mammoth!
Register for both weeks and save.



---
July 13-17: Finding Nemo
Set out on a rescue mission as we learn about our planet's oceans, its animals and what we can do to save this watery home. (Limit 12)

---
July 20-24: Superhero Science
Discover the science behind animals with super strength, x-ray vision, invisibility, shooting webs and other "super powers." Use your own super powers to beat our obstacle course. (Limit 12)

---
July 27-31: "The Case of the Mystery Machine"
Investigate butterflies disguised as caterpillars and other mysterious creatures as we search for the truth of how animals change. A reward of Scooby Snacks awaits! (Limit 12)

---
August 3-7: From Bees to Butter
A week of tasty fun! Find out what bees and worms have to do with pizza, butter and other yummy things as you explore how food gets from the farm to your table. (Limit 12)

---
Nature Investigators
(Entering Grade 1 - Entering Grade 3)

June 15-19: We're Frozen!
Experience the Schrader Center's take on the popular movie. Discover how animals past and present survive cold weather, skate on our "frozen pond" and have a summertime snowball fight. (Limit 24)

---
June 22-26: Mad Science
Discover your inner scientist by creating cool chemical reactions, launching rockets and making slime. Bwahaha! (Limit 24)

---
July 13-17: Teenage Mutant Ninja Herps
Meet some ninja snakes and frogs and their TMNT crime fighting cousins as you explore Oglebay for sneaky reptiles and amphibians (Herps) in their natural habitat. (Limit 24)

---
July 20-24: Tom Sawyer Days
Make fishing poles and try them out. Practice your outdoor skills by building a shelter, starting a fire and cooking lunch. Create your own toys and tools from items found in nature. (Limit 24)

---
July 27-31: How to Train Your Dragonfly
Discover the friendly and fascinating side of dragonflies and other bugs that some find fearsome. Blacksmith a net like Hiccup to catch your creatures and use leathercraft to create a dragonfly pendant. (Limit 24)

---
August 3-7: Create-A-Camp
Campers become counselors on Friday when parents have the opportunity to attend a cookout and participate in games and activities created by the campers. (Limit 24)

---


Nature Explorers
(Entering Grade 4 - Entering Grade 6)

June 15-19: Transformers
Discover the exciting changes that transform nature! Watch how plants and animals transform energy, change shape and adapt to their environment. (Limit 24)

---
June 22-26: Mythbusting Nature
Can animal behavior predict the weather? Is a dog's mouth cleaner than yours? Use science to confirm or bust myths about our natural world. (Limit 24)

---
July 13-17: Aesop's Fables
Are you a tortoise or a hare? Compare Aesop's characters to their living counterparts. Use puppets to create a fable featuring the animals of Oglebay Park. (Limit 24)

---
July 20-24: Survivor Camp
Learn the skills necessary to be one of the "last ones standing." Build shelters and fires, find food, and work with your tribe in order to overcome the elements. (Limit 24)

---
July 27-31: CryptoCamp
Do you believe in the Mothman, Champ, Bigfoot and other mysterious urban legends? Learn more using tracking skills, hair and scat analysis and eyewitness accounts. (Limit 24)

---
August 3-7: Create-A-Camp
Campers become counselors on Friday when parents have the opportunity to attend a cookout and participate in games and activities created by the campers. (Limit 24)

---
Nature Scholars
(Entering Grade 7 - Entering Grade 9)

June 8-12: Mapping Nature
Become a citizen scientist while exploring Oglebay and documenting what lives here. Visit a different area each day and use Project Noah (projectnoah.org) to help identify what you find and share your observations online. (Limit 30)

---
July 6-10: Hunger Games
Volunteer as Tribute! Be trained in survival skills like tracking, archery, useful plants, fishing, traps and snares, camouflage, shelter building and primitive fire-making. Showcase your skills to gain sponsors before heading into the Arena for some exciting challenges. (Limit 30)

---